Mouthguards or occlusal guards are auxiliary removable appliances that are worn over the natural teeth to protect teeth from injuries. A good quality mouthguard should be made from a durable material, resistant to tears, easy to clean, and comfortable to wear. A well-made mouthguard also should not restrict speech or breathing during use.
Sports Mouthguards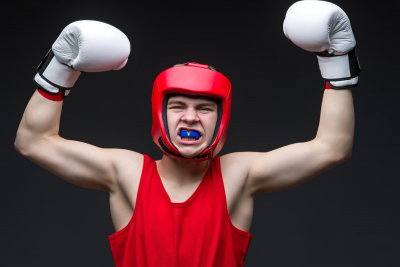 Sports mouthguards are used by amateur and professional athletes who participate in high-intensity sports that involve body contact, falling, or flying equipment. A few examples of these sports include boxing, ice hockey, skateboarding, and mountain biking.
For the best protection, it is desirable to have a sports mouthguard fabricated by a dental laboratory. Custom-made mouthguards fit the tooth contour exactly and allow the wearer to breathe comfortably and speak clearly. A custom mouthguard will not become loose and fall out during activity. You can't get the same retention, fit, or protection from a mouthguard that was purchased at a drugstore.
Mouthguards are proven to save teeth. Numerous sources state the cost of treating a sports-related dental injury can be almost twenty times the cost of a custom-made mouthguard designed by a dental laboratory. You only have one set of teeth. When participating in sports, protect them by wearing a sports mouthguard that was made to fit your teeth precisely.
Teeth Grinding Night Guards
Teeth grinding or bruxism is a condition in which you grind or clench your teeth unconsciously. It can happen while awake or asleep. There are several causes of this condition. They include stress, anxiety, an abnormal bite, or crooked teeth. While it can be challenging to cure bruxism and its underlying cause, bruxism night guards help prevent further damage to your teeth and the surrounding structures.
One unique brand of night guard is an Eclipse night guard. This night guard is manufactured from clear, light-cured composite resin UDMA (Urethane Dimethacrylate). Advantages of the Eclipse night guard material include less shrinkage during processing and a more precise fit as compared with ordinary acrylic night guards. Additionally, Eclipse night guards require fewer adjustments in order to fit correctly and comfortably. Night guards help you get a good night's sleep while protecting your teeth and can drastically improve your quality of life.
At European Denture Center, we have the technical knowledge and expertise to help you with custom-made dental appliances to fit your specific needs. If you are looking for a mouthguard to help with bruxism or to protect your teeth from a sports-related dental injury or dental night guard, contact or visit us. We are your source for auxiliary removable dental appliances. We have four convenient locations to serve you in Boise, Idaho, Caldwell, Idaho, Ontario, Oregon, and Everett, Washington.