If you have lost your adult teeth due to age, injury, tooth decay, or disease, implant-retained dentures can be a safe and effective choice for replacing your missing teeth. This type of denture looks and functions like natural, healthy teeth.
They allow you to improve your smile and regain your ability to eat, chew, and speak clearly. Additionally, they prevent your teeth from shifting, helping to preserve your appearance.
In this article, we'll discuss some of the things that you should know about the benefits and costs associated with implant-retained dentures.
What Are Implant-Retained Dentures?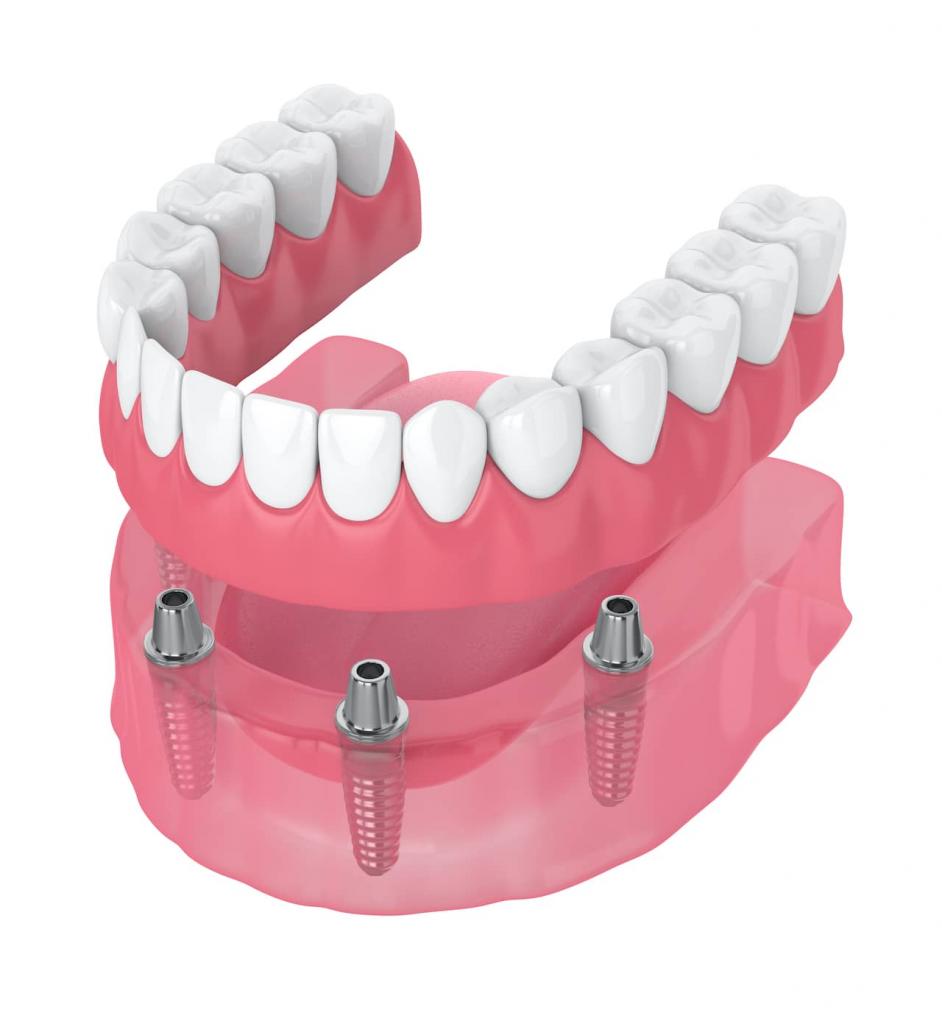 Implant-retained dentures are held in position by dental implants. Because they are secured by the implants, the dentures function better than conventional dentures and are more stable.
Dental implants are titanium screws placed in your jawbone to help stabilize and secure the dentures. Then, the implant-retained dentures (also known as overdentures) are attached to the implants. Typically, each jaw requires 2 to 4 dental implants to stabilize a single denture.
Depending on your treatment goals and budget, more implants may be used for improved security.
Process for Getting Implant-Retained Dentures
Next, we will review the process for getting this kind of dental implant.
1. Initial Consultation
In the initial consultation, your dentist will review your case, checking both your medical and dental history. They will take digital x-rays and possibly a CT scan. Finally, impressions of your gums and teeth are taken.
This helps your dentist understand the quality and quantity of your bones and identify the best location for positioning the implants. Additional impressions may be taken of your mouth in order to fabricate your temporary dentures.
2. First Surgery
Here, an incision is made in your gums, allowing access for a hole to be drilled into the jawbone and the implant is placed. The process is repeated with the additional implants.
The incisions are sutured and the temporary denture is placed unattached over the implants, ensuring that direct pressure is not applied to the implants.
The denture may be relined with a soft reline material to ease the stress and improve comfort and stability.
The second surgery is usually conducted 4 to 6 months later which allows time for the bone and implants to fuse together properly (osseointegration).
3. Second Surgery
Your dentist will take an x-ray to ensure that the implants have fused to the jawbone. During the second surgery, a tiny incision is made in your gum tissue to expose the top portion of the implants.
Then, a round metal piece, known as a healing collar or healing cap, is positioned onto each implant to facilitate the healing of the gum tissue around it.
After 14 days, the healing caps are replaced with regular abutments. Your dentist will take impressions of your gums and abutments in order to create your permanent dentures.
4. Try-in and Insertion
During this process, titanium connectors will be placed on the implant abutments. The dentist will try-in a mock-up of your dentures.
If no further adjustments are needed, the mock-up will be returned to the laboratory for processing and completion of your final dentures. When completed, your new dentures will be secured to dental implant abutments.
5. Osseointegration
Osseointegration refers to the process of the bone and implants fusing together and becoming adequately stable to support the dentures or other dental restorations.
Upper jaw implants generally take 5 to 6 months to heal, while lower jaw implants usually osseointegrate within 4 to 6 months.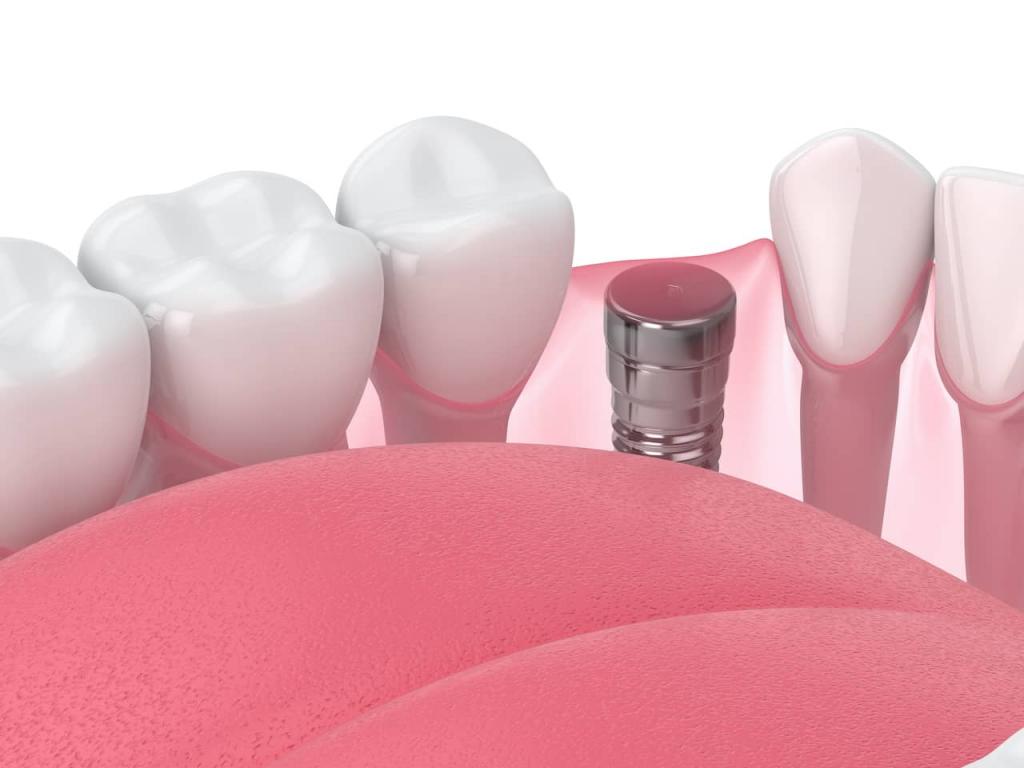 Benefits of Implant-Retained Dentures
Better Stability. These dentures are more stable than traditional dentures and do not float or become ill-fitting and unstable.
Better Eating Ability. These dentures offer better chewing ability and stronger biting forces, enabling denture wearers to eat more difficult to chew foods easily.
Natural Appearance. Compared to conventional dentures, implant-retained dentures appear and function more like natural teeth.
Jawbone Preservation. These dentures help to preserve the jawbone structure and prevent further bone loss and the sunken-in appearance that often accompanies tooth loss.
Better Comfort. Because these dentures fit better, they are more comfortable and cause less friction on the gum tissue than traditional dentures.
Frequently Asked Questions About Implant-Retained Dentures
How much do implant-retained dentures cost?
Conventional implants cost between $1,600 to $2,200 per arch. However, the cost will vary depending on the number and type of implants used and the quality of the denture material.
Are implant-retained dentures worth it?
Yes, these dentures provide better stability and improved comfort when compared to conventional dentures, making them well worth the investment.
Are there any risks with replacing my missing teeth?
It is possible for dental implants to cause complications like infections, nerve and tissue damage, and gum recession. No surgical procedure is completely without risk.
To minimize postoperative complications, opt for working with a denture provider who has experience performing dental implant procedures.
What can you eat with implant-retained dentures?
After you adjust to your dentures, you can eat most of the foods that you ate with your natural teeth. You might prefer to avoid nuts and seeds because they can get under your dentures and irritate your gums.
Can I sleep with implant-retained dentures?
No, it is best not to sleep with implant-retained dentures in your mouth. Remove your dentures at night to prevent complications like yeast infections or denture damage.
When should I clean my dentures?
It's best to clean your dentures after meals and before sleeping.
Get in Touch with European Denture Center
Implant-retained dentures are an excellent choice to replace your missing teeth.
They offer more stability and greater comfort. Because they can last for decades, these dentures are a smart investment in your happiness and health.
At European Denture Center, we provide implant-retained dentures costing as low as $2,095. Contact us to get the most affordable and secure dentures today!