Are you considering getting dentures to replace your missing teeth? You are not alone. Removable dentures are the most popular option for replacing teeth. Recent reports indicate that 41.88 million people wore some form of dentures in 2022. There are strong projections for this number to reach 42.46 million by 2024.
Most of us know about traditional dentures, bridges, and dental implants. But did you know there is a type of partial denture that offers better comfort and is more durable than traditional metal or acrylic dentures? We are talking about soft dentures, which have become quite popular in recent years for a number of good reasons.
In this article, we will learn all about soft dentures, from what they are to the benefits that they offer.
What Are Soft Dentures?
When you look at soft dentures, they appear quite similar to traditional partial dentures. The significant difference is the flexible denture base, which is made from a tough but cushiony nylon resin. Because of their softness and flexibility, soft partial dentures provide greater comfort along with much-needed durability and security. 
The strength of these revolutionary partials allows you to bite into an apple without concern for the denture slipping while still offering flexibility for comfort and the ability to last for many years without the material cracking or shattering.
The Top 8 Benefits of Soft Dentures
Now that you have answers to what are soft dentures, let's take a look at the benefits of this specific type of partial denture.
Natural look and feel
One of the best things about soft dentures is that they look and feel natural. Because of their clear or tissue-colored base, it won't appear obvious to others that all of your teeth are not your natural teeth. Also, they fit so well that there is really no discomfort whatsoever.
      2. Decreased chance for sores
When wearing conventional dentures, many people complain of sores developing because the dentures rub their mouth. With soft dentures, the chance of developing sores is minimized. Unlike other partial dentures, these partials do not have any metal parts and don't rely on metal clasps for security.
      3. More options for patients with allergies
Through the use of biocompatible thermoplastic nylon resin, people who are sensitized by dental material allergies can wear these soft dentures without concern for potential tissue reactions. Since the soft resin material is completely BPA-free, component materials won't leach harmful toxins that can be absorbed.
      4. Natural gum color
People who wear dentures and partial dentures often want them to go unnoticed. One of the biggest advantages of having soft dentures is the gum color that blends with your tissue. Considering that these partial dentures attach to the teeth and are supported by the gums without the need for unsightly metal clasps, only your natural gum color is visible when smiling, laughing, or talking.
      5. Less stuck foods
Food that becomes trapped under dentures and partials can lead to pain as well as a foul odor. Because soft dentures more closely adhere to the contour of your tissue, there are fewer opportunities for food to migrate under your dentures, which allows you to enjoy dinner out with friends without having to excuse yourself to remove debris from under your denture.
     6. No staining
There are a number of factors that contribute to stained denture acrylic. However, with flexible partial dentures, staining is minimized. The flexible thermoplastic resin used in making these soft dentures is both stain and odor resistant. Your partial will remain sparkling throughout the life of the denture.
     7. No adhesives
Soft dentures are lightweight and thin and can be attached to your teeth without the need for denture clasps, adhesives, or denture pastes. Since the base is lighter than traditional acrylic dentures, they are more comfortable and less bulky, making it easier to speak more clearly.
     8. Shatter resistant
When it comes to the durability of soft dentures, they surpass other types of dentures significantly. They do not break or shatter even if accidentally dropped, a big benefit for elderly patients or patients who have limited dexterity.
See Also: Who Needs Flexible Partial Dentures?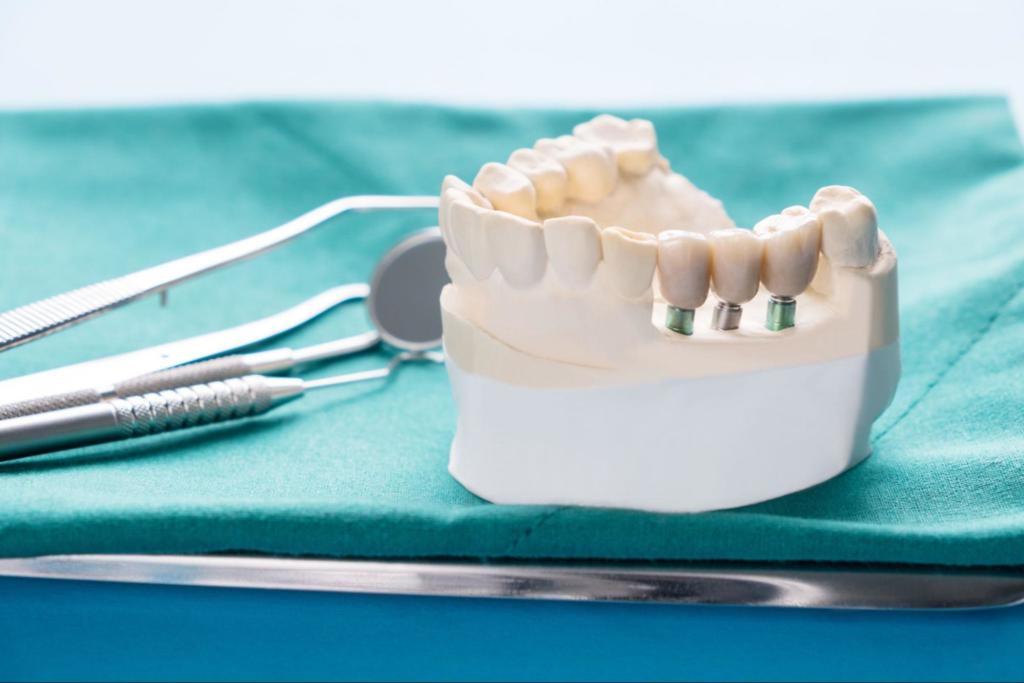 The Process of Receiving Soft Dentures
Since soft dentures are fabricated somewhat differently than traditional dentures, making them involves a slightly altered process:
Taking proper impressions
Compared to regular dentures, soft dentures require more precise fabrication in order for them to fit correctly. At the initial appointment, your dentist will take impressions of your mouth to accurately duplicate the shape of your gums and teeth for the laboratory technician.
Trial fit and the bite test
At the next appointment, the dentist inserts a wax pattern of the soft denture in the mouth to check both the appearance and fit. The dentist will also check the bite and how the denture teeth relate to one another, as well as your natural teeth. This information is recorded so that the dental laboratory can create a denture that is both comfortable to wear and looks great.
Delivery
This is the final stage of fitting the denture. The dentist checks that the finished denture adapts perfectly for a comfortable fit. Soft partial dentures require special care to keep them looking new and to prolong their lifespan. You will be guided on how to protect your partial with instructions on taking care of the appliance and daily maintenance.
If you feel discomfort or have problems biting or chewing with the soft denture, return to your dentist at your earliest convenience. Most issues encountered with soft partial dentures are easily resolved with minor adjustments.
Get Soft Dentures at European Denture Center!
Properly-fitting dentures are important, not only for the sake of aesthetics but for the utility that they provide. Whether you are looking for traditional dentures, digital dentures, soft dentures, denture implants, or traditional partial dentures, there is no better alternative than European Denture Center.
European Denture Center creates some of the most amazing soft dentures using cutting-edge technology and safer dental materials. Our caring dental professionals will help guide you through the entire process of obtaining the very best tooth replacement solution for you. Why wait any longer to get the award-winning, comfortable smile that you deserve?
Contact European Denture Center today to book your consultation.