Many Americans lose their teeth over the course of their lifetimes through cavities, injury, or periodontal disease. The Centers for Disease Control and Prevention data states by age 17, 7% of people in the US have lost one or more of their permanent teeth due to tooth decay.
Fortunately, there are a number of tooth replacement options available for these patients, including dental implants, dentures, partial dentures, crown and bridgework, and All-on-4® implants.
In this article, we'll discuss the pros and cons of some of these popular tooth replacement options along with their average costs.
Best Permanent Tooth Replacement Options
1. Dental Implants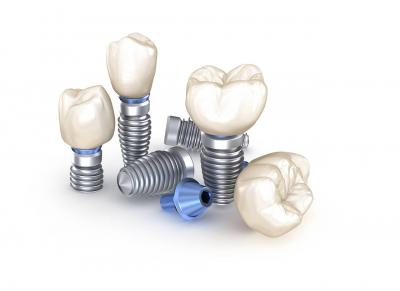 Dental implants are a synthetic alternative for replacing the roots of missing natural teeth and giving the final restoration the look and feel of a natural tooth. They can be positioned in the jawbone to support a single crown, a bridge, or a complete denture and are one of the best solutions for replacing missing teeth.
The Process
Evaluation: A thorough assessment is performed by the surgeon. This includes a review of your medical history, x-rays, and models of your teeth along with a clinical examination of your jawbone to determine the position and number of implants required for your treatment.
Surgery: This is conducted in several stages. First, the damaged tooth and its remnants are removed. If there is insufficient bone to secure the implant, bone grafting may be required in advance of implant placement. After the grafted site is fully healed, the implant is placed into the jawbone and is given time to integrate with the surrounding bone before an abutment can be attached to the implant.
The abutment allows the final crown or other restoration to be secured by the implant. That way, the implant looks and functions like your own natural tooth in every way. The entire process can take 8 to 12 months or longer, depending on your healing rate and the complexity of treatment.
Cost
The cost of a single-tooth implant can range between $1,000 to $4,000.
Pros
Dental implants are long-lasting and possess the look, feel, and functionality of natural teeth.
Other than good oral hygiene and periodic dental check-ups, dental implants require minimal maintenance.
Cons
Since it involves the surgical treatment, it's more expensive than other tooth-replacement alternatives.
The entire treatment requires multiple dental visits and more time for completion.
2. All-on-Four Implant-Supported Dentures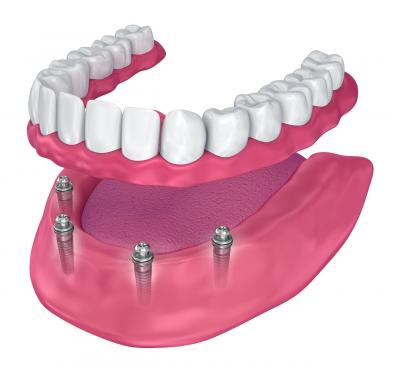 The All-on-4® implant-supported dentures are a tooth replacement option that allows a complete denture to be secured by four dental implants. It's best for patients whose tooth loss or bone loss prevents them from getting multiple individual dental implants.
The Process
Two implants are placed near the front portion of the arch to replace the canine teeth. An additional implant is placed further back on each side. These implants are often angled to take advantage of maximum bone support. The procedure allows a complete arch of 12 to 14 teeth to be secured by only four dental implants.
A temporary denture is usually created before the implant surgery to allow the patient to function while the implants integrate. Six to eight months later, it is time for the dentist to begin the process of fabricating your final restoration which may be a complete denture, a screw-retained denture, or permanent bridgework.
Cost
The All-on-4® implants cost about $25,000 per arch on average, depending upon the type of final restoration chosen.
Pros
The All-on-4 technique uses fewer implants per arch for support and therefore is more affordable than methods that require the use of more implants.
Implant-supported restorations are more stable, stronger, and more comfortable than wearing traditional complete dentures.
Cons
The restorations used could involve removable dentures, which might be undesirable to some patients.
There are limitations to the procedure. Some patients may not be appropriate candidates due to health considerations or lack of adequate bone density.
3. Removable Partial Denture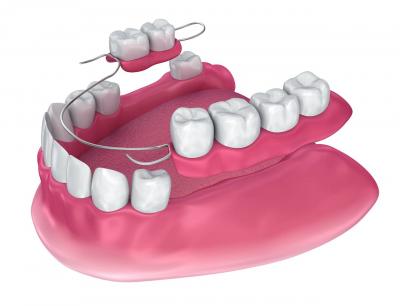 Removable partial dentures replace one or more missing teeth in the same arch. Most partials have an acrylic base which may or may not be reinforced with a metal substructure. They may also have clasps that fit around your existing teeth to help secure the partial denture in place while eating, talking, and laughing.
The Process
The anchor teeth are first treated for any cavities or gum disease, if necessary. Accurate impressions of the teeth and gums and a bite registration are captured to custom fabricate a partial denture that precisely fits the patient's unique tooth configuration.
Cost
A single upper or lower removable partial denture generally costs between $650 to $2,500 on average, depending upon the type of partial selected.
Pros 
Partial dentures are less expensive than dental implants or fixed bridgework.
They cost-effectively eliminate gaps caused by missing teeth and restore your ability to smile, talk, and eat.
Cons
Partials need to be replaced or relined periodically to improve their fit and comfort. Five to ten years is their average lifespan.
Except for flexible partials, partial dentures must be handled with care as they are subject to distortion and breakage.
4. Removable Complete Dentures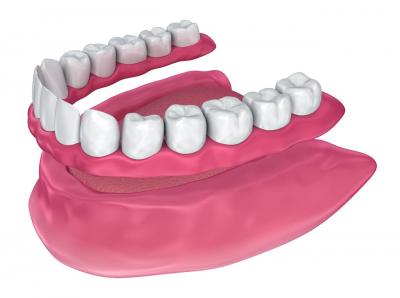 Removable complete dentures are designed to replace an entire arch of missing teeth. They are an economical and non-invasive approach to tooth replacement. Dentures consist of false teeth attached to an acrylic base that rests upon your gums and jawbone.
The Process
First, impressions of your gums and bony ridges are taken. A preliminary bite record is also captured to establish the space between the upper and lower teeth. Mounted anatomic models are created and used to form a mock-up of the dentures for try-in from these records.
This try-in provides the dentist the opportunity for refinements and allows the patient to see what the final denture will look like. Tooth color, tooth shape, and fit may be altered or modified at this stage to achieve the desired look. Once approved by the patient, the final denture is fabricated and finished for delivery. The dentist will make any necessary final adjustments to improve the fit and comfort.
Cost
A basic set of complete dentures costs between $600 to $1000, while premium dentures made from high-quality materials can cost from $4000 to $8000.
Pros
Denture teeth are available in many different shapes, sizes, and colors to complement and flatter any face shape.
Dentures may be adjusted or relined to compensate for minor changes in the shape of the gum tissue over time.
Cons
When the jawbone shrinks or changes shape dramatically, dentures will become ill-fitting.
Complete dentures can rub or cause uncomfortable sore spots, making eating a challenge.
5. Tooth-Supported Fixed Bridge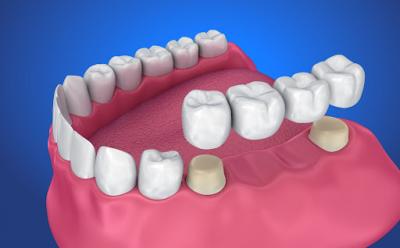 A fixed bridge is a common tooth replacement option, especially if only one or two adjoining teeth are missing. Abutment teeth on each side of the missing tooth are crowned and are connected together by a false tooth that fills the empty space.
The Process
First, the dentist will prepare your abutment teeth by grinding down and reshaping them to create additional space for the crowns. Impressions are taken in order to design and custom fabricate the bridge.
While the bridge is being manufactured, the dentist will use a temporary bridge to protect your abutment teeth and make it easier for you to chew. When your permanent bridge is ready, the dentist will remove the temporary bridge, make minor adjustments to the final bridge, and cement it into place.
Cost
Tooth-supported fixed bridges generally cost between $2,000 to $5,000 for one artificial tooth and two crowns that cover each of the abutment teeth.
Pros
Bridges allow you to chew as if all of the teeth were your own.
Care for a bridge the same as for your natural teeth by brushing and flossing daily.
Cons
A bridge is a more costly option compared with a removable partial denture.
The ground down abutment teeth are more susceptible to future tooth decay. Regular dental check-ups and excellent hygiene are required to protect your investment.
Average Cost of Long-Term Tooth Replacement Options
The total cost of treatment will depend on a number of factors including your current oral health and the type of tooth replacement option chosen. Your dentist can help guide you to the best replacement solution for you based on your individual preferences and your budget.
Looking for Long-Term Tooth Replacement Options?
At European Denture Center, we offer many effective and affordable tooth replacement alternatives including complete and partial dentures, all-on-four implants, and implant-supported dentures customized to suit your specific needs.
There's no reason to suffer from missing teeth. Schedule your consultation with one of our caring denturists today to determine the option that's right for you. The beginning of your improved dental health is only a click or phone call away!