There are many factors to take into consideration when you're deciding whether to go with partial dentures or implants. Although implants provide a long-lasting solution and require less maintenance, there are situations where dentures may be the better solution for you. Many patients prefer partial dentures/flippers over dental implants because they are affordable and removable.
What Is a Dental Flipper?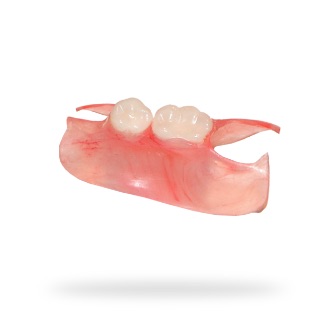 If you have a tooth missing due to disease or injury, then a dental flipper is a great option. It is a removable partial denture that dentists or oral surgeons may use for temporary tooth replacement.
After your natural tooth is extracted, the area will be sensitive and need time to heal. Your dentist may recommend a dental flipper until you get your permanent tooth replacement.
A temporary partial or flipper is made from denture acrylic material to resemble gums and support your replacement tooth. Depending on how many teeth you are missing, a dental flipper may come with clasps like a retainer to secure it in place around your existing teeth.
Advantages of Partial Dentures/Flippers Over Dental Implants
Removable partial dentures serve as an excellent option for people who cannot afford dental implants, or who do not have natural teeth that are strong enough to support a fixed bridge.
Dental Flippers
The pros of partial dentures outweigh their cons, many of which your dentist will discuss with you beforehand. Here are a few:
Pros
Less costly than implants, partial dentures are around $1000.
Dentures can be trial-tested, and the procedure can be completed within 1 – 2 weeks.
Dentures allow your mouth to heal following tooth removal surgery.
The denture creation process is non-invasive and requires no surgery.
Damages caused to dentures can be easily corrected.
Cons
Though dental flippers are inexpensive and quicker to make than other dental alternatives, there are some cons to dental flippers, including:
Need to be removed at night.
Can be unstable and uncomfortable in the beginning.
Require thorough cleaning daily.
Dental Implants
A dental implant procedure is suitable for you only if your gum tissue is healthy, and the bone density in your jaw is sufficient to place the implant.
Pros
Easy to look after just like caring for your natural teeth.
Should last for several years before it needs to be replaced.
Overall bone health is preserved.
Cons
Only suitable if the missing teeth are situated adjacent to each other.
Relatively expensive, and cost can range from $6000 to $9000.
Requires a higher number of visits and treatment can take 6 months to complete.
Implant treatment involves some surgical procedure.
Bottom Line
Not everyone can receive dental implants because you need a fully developed jawbone to support an implant. Therefore, patients must be older than 17 or 18. Moreover, implants are more expensive than flippers or removable partial dentures.