By David Hudnall, DMD
Partial dentures are an economical tooth replacement option for any patient who is dealing with one or a few missing, broken, or damaged teeth. If the rest of your natural teeth are in good condition or are easily restorable, partials are definitely worth your consideration. Partial dentures can restore your smile and improve your ability to chew. They are also a cost-effective alternative to dental implants or bridges.
Not all partial dentures are the same. Different types of partial dentures are made from a variety of materials including metal, acrylic, or flexible resins. Some partial denture types have benefits and distinct advantages that address certain issues or tooth configurations that others aren't able to offer. In this article, we'll discuss the types of partial dentures that dentists commonly prescribe.
Types of Partial Denture Replacement Options
Not all removable partial dentures types are created equally. Some options have benefits and distinct advantages for certain patients or tooth configurations that others can't offer. Let's discuss six different kinds of dentures commonly used today.
Cast Metal Partial Dentures
Because of their precise and comfortable fit, cast metal partial dentures are the most common type of removable tooth replacement option in use. They consist of high-quality resin teeth bonded with gum-colored acrylic to a precisely-fitting Wironium or titanium cast metal framework.
The metal framework attaches to the existing natural teeth using metal clasps or hidden precision attachments. If your natural teeth and the partial denture are cared for properly, a cast metal partial denture can last for 7 to 10 years.
Considerations
Cast metal partial dentures are perfect for patients who want a lightweight, stable and secure way to replace as many as twelve missing teeth within a single arch. Their rigid framework design is especially beneficial for patients who are missing some or all of their back teeth because it prevents the partial from moving or bending while chewing. Metal framework partials don't work well for patients with ongoing periodontal (gum) disease or problems with recurrent tooth decay.
In 2022, European Denture offers cast metal partial dentures starting at $1,495 per arch. Titanium and Wironium metal partials are available with a multitude of tooth shades to match the surrounding natural teeth. They both offer a 7-year limited warranty that covers breakage during normal use.
Flexible Partial Dentures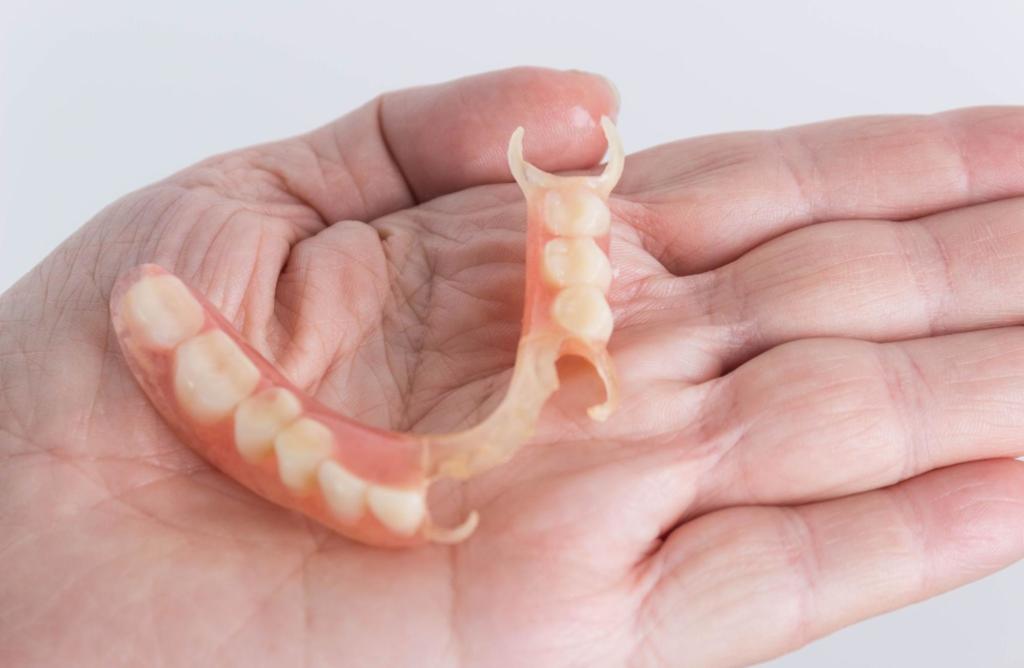 Valplast flexible partial dentures are made from a nylon-based resin material that functions both as the denture base and as the structural support for the partial. Because the material is thin and lightweight, this flexible partial denture type is considered by many patients to be a very comfortable tooth replacement option.
Tissue-colored clasps blend with the gum tissue and attach the partial to the natural teeth. Valplast flexible partials may be used as a semi-permanent solution, a temporary solution prior to implant-supported restorations, or as a unilateral partial to replace a single tooth. Some patients find that they are able to wear their flexible partial for as many as five years without any issues.
Considerations
Valplast partials work well to replace one or a few missing teeth. Patients who desire both comfort and beautiful aesthetics benefit from flexible partials. Since they are metal-free, there's no metal to show when smiling. Flexible partials are particularly kind to the teeth and are suitable for use in patients who have a history of gum disease.
Valplast flexible partials do require proper care for longevity. Their average lifespan is about five years. The material can easily be ruined by abuse or by cleaning products not intended for use on the nylon-based material. Since they are flexible, they don't work well for patients that do not have enough natural teeth to support the partial, such as no back teeth.
European Denture Center offers full-arch Valplast flexible partials with a 2-year limited warranty starting from $1,495.
Flipper Partial Dentures
Flippers are a special type of partial dentures designed to be a quick and economical way to replace one or two missing teeth, generally in the front part of the mouth where missing teeth are very noticeable. They may be made from either acrylic resin or flexible Valplast material, depending on their specific use.
Considerations
A denturist would select a flipper for a patient when the patient has one or two missing teeth. They are also a good choice as a temporary option while saving for a more long-term replacement solution, such as a fixed bridge or a single-tooth dental implant. It is important to know that acrylic resin flippers may require the use of denture adhesives to help with their stability while eating. Flippers made from more secure Valplast material are not suitable for placement immediately after having teeth extracted.
European Denture Center offers acrylic front tooth flippers starting at $310 per arch.
Acrylic Partial Dentures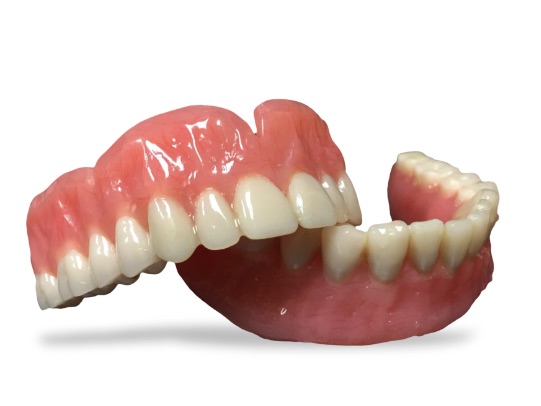 Acrylic resin partial dentures are considered by most dental professionals to be a temporary tooth replacement option until a more permanent restoration can be made. Denture teeth are used to fill the spaces left by missing teeth and are supported by a denture base made from pink acrylic resin secured to the natural teeth by metal clasps.
Considerations
Types of partial dentures made from acrylic are often used to replace between one and six teeth immediately after having dental extractions, allowing the patient to have a full complement of functional teeth while healing. They are also one of the most economical partial dentures types.
The pink acrylic base is made somewhat thick to support the denture teeth and prevent the partial from breaking. Some patients feel they have limited room for their tongue and may have trouble pronouncing their words properly, which is one reason that this type of denture is not the preferred choice of denturists as a permanent tooth replacement solution.
European Denture Center offers acrylic partial dentures starting at $895 per arch in 2022. The denture includes a 1-year limited warranty that covers breakage under normal use.
Acetal Resin Partial Dentures
Acetal resin partials offer similar comfort and security to cast metal partial dentures while also offering improved aesthetics for patients. Because the framework and supporting clasps are made from tooth-colored resin, they blend seamlessly with the patient's own natural teeth. The framework is slightly flexible, offering the patient the combined benefits of a traditional metal framework partial with the comfort of a less rigid type of denture.
Considerations
Denturists often choose this partial denture for patients who want a removable partial that totally avoids the look and feel of metal, allowing the partial to blend with the natural tooth color. Because resin is less durable than metal, the acetal resin partial doesn't have the longevity that most cast metal partial dentures offer. It may be necessary to replace resin partials almost twice as often as metal partials, creating a trade-off for improved appearance.
The price for an acetal resin partial starts at $1,695 per arch. It comes with 3-year limited warranty against breakage under normal use.
Hybrid Partial Denture
This removable restoration marries the best elements from two different types of partial dentures. It allows the patient to enjoy the comfort and aesthetics of a Valplast flexible appliance along with the greater stability and security obtained from a cast metal partial denture. Combining both materials allow tissue-colored clasps to be placed in visible areas, eliminating unsightly metal clasps from view.
Considerations
The denturist will offer this partial to patients who demand the most natural appearance possible along with the comfort, stability, and secure fit that they desire. This denture is custom-designed for each individual patient to address and balance maximum functional and appearance considerations.
Simultaneously addressing these attributes means that a hybrid appliance is one of the most expensive tooth replacement options, short of dental implants or fixed bridgework. Should the partial need to be repaired at some point in the future, it may prove to be quite costly or require replacement entirely.
Custom-designed hybrid metal/flexible partial dentures start at $1,895 per arch. This price can vary greatly depending on the type of clasp materials used and the exact configuration of your teeth. This partial comes with a 5-year limited warranty that covers breakage during normal use.
Non-Removable Tooth Replacement Solutions
Although this article was intended to help you understand the benefits and drawbacks of each type of partial denture offered by European Denture Center, we can't overlook other tooth replacement solutions that may be available to you. These treatments offer higher-quality, more permanent tooth-replacement options. Best of all, they look and function exactly like your own natural teeth.
While removable partial dentures are a great choice for replacing missing teeth, they aren't your only option. More permanent and long-lasting solutions, such as dental bridges and dental implants, do exist. Your denturist will advise you of the best tooth replacement solutions for your specific situation and help you arrive at a treatment plan that also addresses your dental health needs and your budget.
Fixed Bridge
As the name suggests, these appliances are not removable. A fixed bridge is a great option for those patients who have one or a few teeth that require replacement and have naturally healthy teeth on both sides of the space. A crown is made for each of the surrounding teeth and the replacement teeth are permanently affixed to the crowns. The replacement then functions as a unit and can be brushed and flossed like natural teeth.
Implant-Supported Crowns, Bridges, and Dentures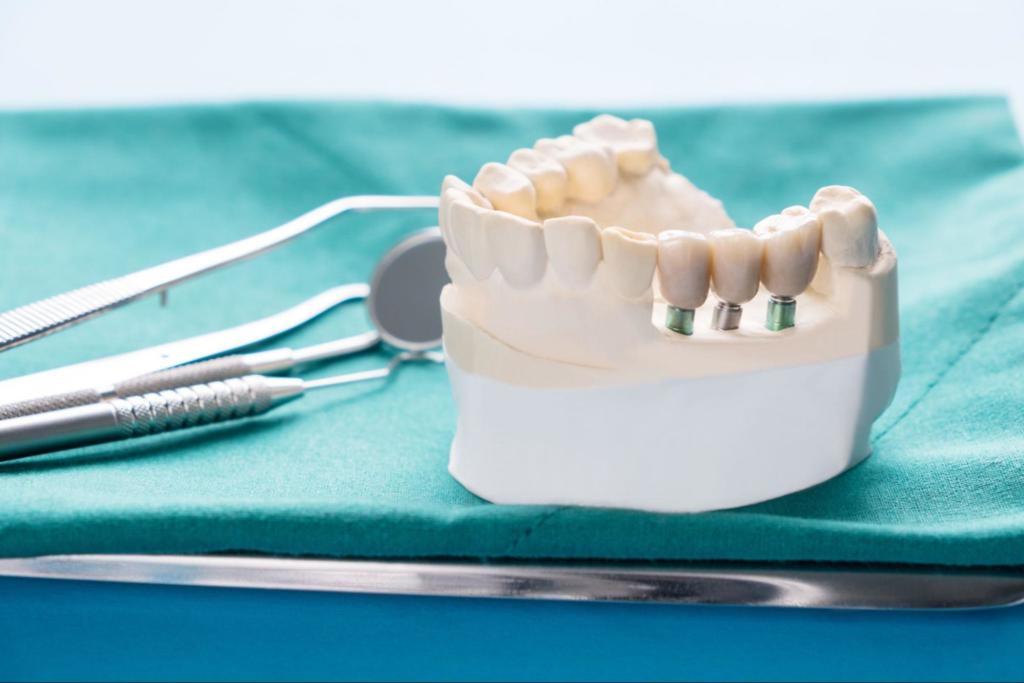 Fixed crown and bridgework supported by dental implants are a great treatment alternative for people who are missing one or more natural teeth and do not wish to be bothered by removing their dentures to clean them.
For this procedure, implants made from biocompatible titanium are surgically placed into the jawbone to function as the tooth roots. Then, a crown is created and attached to the implant. A similar procedure is also used to support a full denture with implants. A minimum of 4 to 6 evenly spaced implants are required to support a single complete denture.
Trust European Denture Center To Advise You
European Denture Center's caring denturists strive for you to receive the most appropriate treatment to address your dental concerns. That's why we provide high-quality, affordable, personalized, comfortable dentures, a variety of different types of partial dentures, and implant-supported dentures that are customized to match your specific needs, lifestyle, and budget.
If you're curious about whether partial dentures are right for you, we're ready to help! Schedule an appointment with us today by visiting our scheduling portal or by calling 866-428-0505. The next step to a beautiful smile starts with a free consultation. What are you waiting for?