Affordable Denture Implant Solutions
You deserve a beautiful, healthy smile. Fixed denture implants may be your best solution. European Denture Center offers affordable permanent dentures options to help you restore your smile with long-lasting results. A snap-in overdenture can help you chew better, speak more naturally, and boost your confidence.
Compare the Features and Characteristics of Each Implant Denture

Implant Overdenture

Removable Bridge
all-on-4 or on-6

Fixed all-on-4

Starts from

$2,095 - $2,895

per arch

Starts from

$3,500 - $4,500

per arch

per arch

Aesthetics
Aesthetics

Great

Excellent

Excellent

 
Stability & Fit
Stability & Fit

Great

Excellent

Excellent

 
Lightweight
Lightweight

Good

Excellent

Excellent

 
Chewability
Chewability

Great

Excellent

Excellent

 
Slip resistant
Slip resistant

Great

Excellent

-

Great

Excellent

 
Clean/Hygiene Friendly
Clean/Hygiene Friendly

Great

Excellent

Moderate

 
Maintenance Friendly
Maintenance Friendly

Excellent

Excellent

Moderate

 
Break resistant
Break resistant

Great

Excellent

Great

 
Free adjustment and deep cleaning
Free adjustment and deep cleaning
3 years
5 years
2 years
 
Warranty
Warranty
5 years
7 years
7 years
*This price does not include surgical placement implants and abutments
*Relining is extra and is not part of the free adjustments
We Offer Two Types of Denture Implants
European Denture Center offers two types of implant-supported dentures services at competitive prices.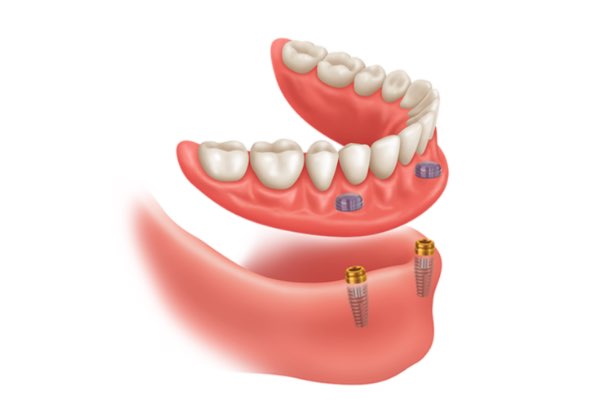 Zest Locator
®
Snap-On
Dentures
The Zest Locator® systems work well for many denture wearers. Your denture fastens (or "snaps" in) over two or four implants and can be easily removed for cleaning. If you're worried about snap-in denture cost, rest easy knowing that European Denture Center works with you to find the best, most affordable denture implant cost through our denture lab.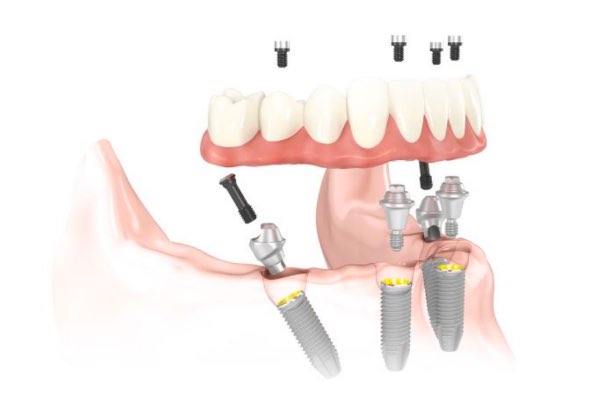 All-On-4
™
Dental Implants
Using this technique, our denture implant specialists will replace all your natural teeth with a removable denture that attaches to unique All-On-4™ dental implants. The cost of All-On-4 can vary but is very reasonable, especially when crafted by our own European Denture Center denture lab.
What is an Implant-Supported Denture?
An implant-supported denture is a unique type of permanent denture that is attached to dental implants in your mouth instead of floating on your gums like a regular denture. This creates a secure denture that allows you to chew, smile, and speak without using adhesives or worrying about the denture slipping.
How Do Implant-Supported Dentures Function?
If you do not have any natural teeth, but have a sufficient healthy jawbone to support the implants safely, an implant-supported denture is commonly used. Special attachments snap onto the implant base to give a secure fit. These dentures are usually developed for the lower jaw because upper dentures generally do not require the implants' extra support. However, implant-retained dentures can be made for either upper or lower jaws if necessary.
Change Your Life With Implant Retained Dentures
There's no need to compromise. Enjoy what you want to eat with the help of your implant-supported dentures. Smile and laugh without worrying about dentures that may slip. Be confident in social settings and at work. And do it all at an affordable price that doesn't break the bank. Permanent denture implants may be your answer to boosting your health and improving your enjoyment of all life has to offer.
Compare the Features and Characteristics of Each Denture

Implant Denture

Digital Denture

Signature Denture

Premium Denture

Essential Denture

per arch

per arch

per arch

per arch

per arch

Slip Resistant
Slip Resistant

Excellent!

Excellent

-

Great

Great

-

Good

Good

Normal

 
Precise fit and stability
Precise fit and stability

Excellent!

Excellent

-

Great

Great

-

Good

Good

Normal

 
Advance Comfort
Advance Comfort

Excellent!

Great

Great

Good

Normal

 
Fewer sore spots
Chewability

Excellent!

Great

Great

Good

Moderate

 
Post Adjustments
Post Adjustments

Least

Very Few

Very Few

Few

Moderate

 
Preserves Jaw Bone
Preserves Jaw Bone

Excellent!

Great

Great

Great

Good

 
Bio-compatible materials
Bio-compatible materials

Excellent

-

Great

Excellent!

Great

Great

Good

 
Extra strength Lightweight Acrylic
Extra strength Lightweight Acrylic
Yes
Yes
Yes
Yes
~
 
Stain resistant
Stain resistant

Excellent!

Great

Excellent

Great

Good

 
Oder resistant
Odor resistant

Excellent!

Excellent!

Excellent!

Great

Good

 
Tooth Shades
Tooth Shades
16
8 - 12
16
12
8
 
Custom Tooth Shape
Custom Tooth Shape
Yes
Yes
Yes
Custom pre-made
No
 
Life-like Appearance
Life-like Appearance

Excellent!

Good

-

Excellent!

Excellent!

Great

Good

 
Warranty
Warranty
7 Years
7 Years
5 Years
3 Years
1 Year
 
Free Adjustments & Cleaning
Free Adjustments & Cleaning
3 Years
3 Years
2 Years
1 Year
6 months
 
 
 
View All Options
View All Options
 
 
Four Denture Clinic Locations to Serve You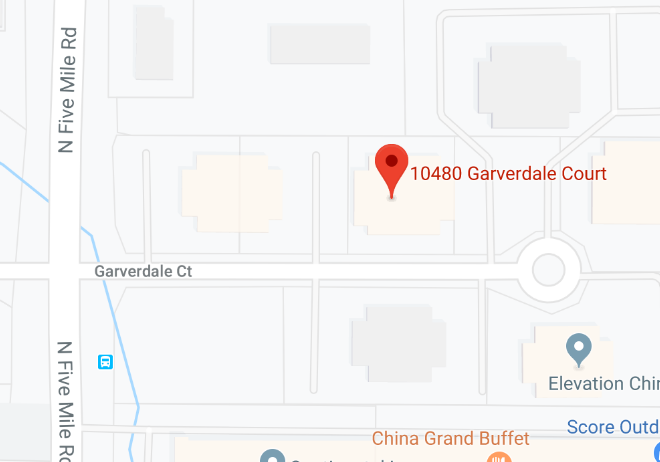 Address:
10480 W Garverdale Ct. Ste 804A
Boise, Idaho 83704
Hours:
Mon – Fri, 8am – 5pm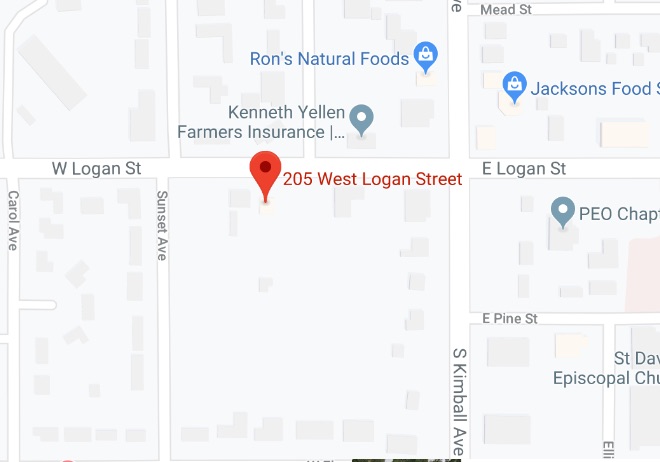 Address:
205 W Logan St, Caldwell,
ID 83605
Hours:
Mon-Thur, 8am – 5pm
Address:
1111 Pacific Ave. Suite A
Everett, WA 98201
Hours:
Mon – Fri, 9am – 5pm